Principals' Roundtable On Post-Pandemic Anxiety Among Students
Most schools across the country are now back to operating from the school premises. This after almost two years of mostly online classes that were forced with the outbreak of COVID -19. The challenges of student mental health during and after COVID-19 were many and schools had to come up with varied solutions that would be suitable for the students' benefit. This was the underlying topic discussed in Careers360's Principals' Roundtable where principals of leading schools took part.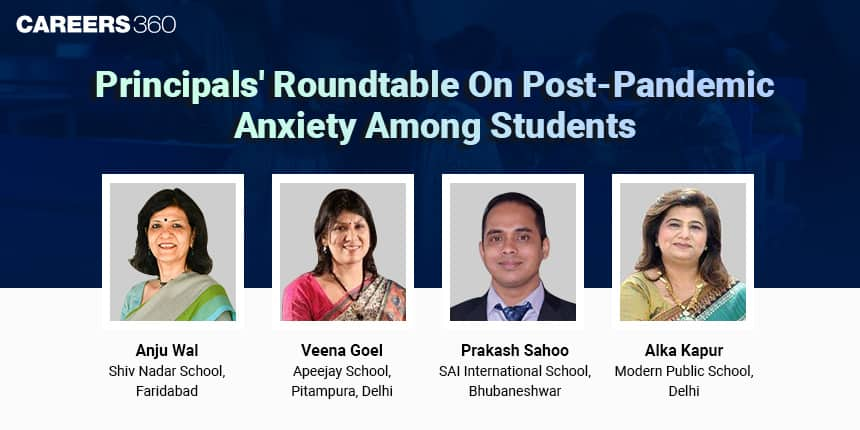 Titled "Post-Pandemic Anxiety Among Students'', the Principals' Roundtable had Anju Wal, Principal, Shiv Nadar School, Faridabad; Veena Goel, Principal, Apeejay School, Pitampura, Delhi; Alka Kapur, Principal, Modern Public School, Delhi; Prakash Sahoo, Secondary School Principal, SAI International School, Bhubaneshwar amongst the participants. The discussion not only included views of the participants about the challenges faced, student mental health during and after COVID-19 and that of teachers as well, but also on how they are being tackled, and preparedness for the future.
Also Read | Stress Management Techniques
Challenges During And Post-Lockdown
Q. What challenges did the students and teachers face during the lockdowns as classes happened online? Which of these challenges continued in the offline school once it resumed? What were the observations of teachers?
Anju Wal: Of course, everyone was expecting some surprises after schools reopened. Students were not the same when they returned to school after a 2-year break. They had grown into inquisitive creatures with a tendency towards independent learning. They had begun utilising the intrinsic learning approach and showing interest in self-directed learning. Students now hold their own sets of thoughts and attitudes and are more aware of concepts like religion and democracy. We must acknowledge that they demonstrated excellent adaptation, resilience, and grief-handling skills. There was a feeling of anxiety in the student community. Many experienced the fear of dying and being separated from their loved ones during the pandemic, and it is quite admirable how they handled it all.
Veena Goel: The pandemic also had some detrimental impact, like a coin has two sides. While some students developed the habit of self-learning, for some, the pandemic caused a learning gap. Lack of proximity to teachers and the isolation syndrome were the main causes of this difference in learning. Children of elementary school during the pandemic suffered the most and that these past two years have been a void for them. Students also seem to have forgotten the skill of writing.
Alka Kapur- With school during the pandemic functioning via online classes, students were less likely to turn on their cameras since they seemed to have become more conscious of their physical appearances. Covid also seemed to have led to feelings of anxiety in the student community, which were noticeable once they came back to offline school. Simple, daily activities like writing their notes and wearing a school uniform suddenly became new and daunting for them. Both fair and unfair techniques were employed for assessments and exams, and performance in board exams also declined.
Also Read | 3 Most Common Mental Health Problems In Children And How To Handle Them
Way Forward
Q. What steps did schools take to help students and teachers to transition back to offline school smoothly?
Prakash Sahoo: Some mentoring programs on how to help children get acclimated back to the offline classroom were arranged for teachers. A group of 11 school counsellors facilitated the mentoring programmes. The impact of the intervention was positive and visible.
Veena Goel: Prior to concentrating on the academic components, teachers first attempted to undo the negative effects on student mental health during and after COVID-19. School counselors now play a crucial role in assisting young minds in escaping the pandemic zone.
Also, the teaching and evaluation systems need to be changed. We must endeavor to help students become independent learners who are in charge of their own education. Teachers are now concentrating on building a solid foundation for all the knowledge that children have missed, in addition to finishing the curriculum for the current academic year. To implement this, we have urged parents to cooperate and remain involved in the process.
Alka Kapur: The school, parents, and instructors must work together to monitor student behavior and help it to return to normal. Yoga, sports, extracurricular activities, and the need for regulated screen time must all be promoted among students.
Also Read | How To Reduce Anxiety Naturally
Preparedness For Future
Q. How well are schools prepared in case another lockdown happens at any time in the future?
Prakash Sahoo: Online school during the pandemic allowed students an opportunity to take charge of some parts of their life, while also pushing teachers to step outside of their comfort zones and become more technologically advanced. The blended approach to teaching and learning is becoming a mainstay of education. Since most schools are now familiar with the hybrid learning approach, learning and teaching will continue even if another lockdown or other unavoidable circumstances require going back to online school.
Watch Now | Principals' Roundtable On Post-Pandemic Anxiety Among Students