NTSE Topper Interview - "Time-management and accuracy are the keys", says L. Gokulnath
NTSE Topper Interview: L. Gokulnath - Having a knowledge of your weakness can prove to be your biggest strength. In NTSE topper interview, L. Gokulnath, a student of class 11 from Somerville School, Noida says that identifying the areas in which he went wrong was the first step he took in order to eliminate the mistakes. He also added that this can be done by taking several mock tests, because, with practice, one can boost up their speed and accuracy in the exam. His strong will to top every exam that he appears for is something that not only keeps him going but also motivates and inspires him to strive hard. In 2018, L. Gokulnath topped NTSE with a score of 186 out of 197. Students planning to take up NTSE 2020 can scroll down and read the NTSE topper interview with L. Gokulnath to know about his preparation strategies and gather some tips to crack the exam with ease.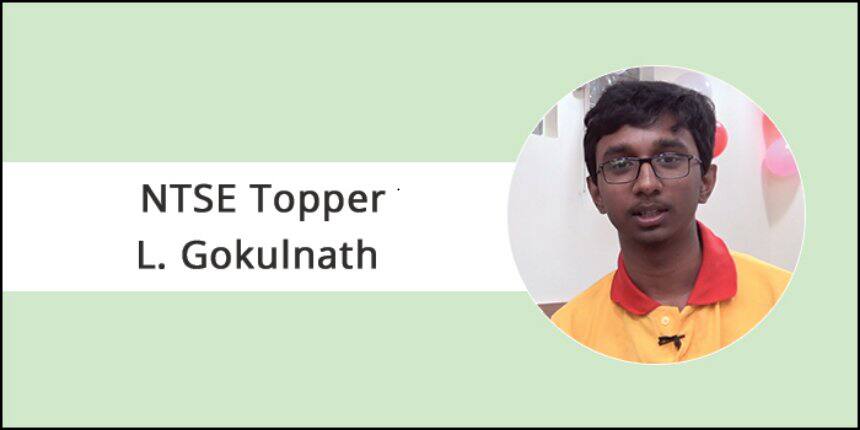 NTSE Topper Interview - L. Gokulnath
Students who are preparing for the upcoming NTSE exam must be looking for NTSE preparation tips to help them clear the exam. Here is what NTSE 2018 topper L. Gokulnath had to say about his success in NTSE in his interview with Careers360:
Q: Tell us something about yourself.
A: Hi, I am L. Gokulnath and I cleared NTSE in 2018. I am currently a student of class 11 in Somerville School, Noida.
Q: What was your performance in NTSE. How much did you score?
A: In NTSE stage 1 which was held in November 2017, I was the topper from Noida. After that, I started preparing very hard for stage 2 which was held in May 2018. There was a gap of six months between the two stages and I used that to my benefit. In NTSE stage 2, my score was 186 out of 197. It was the highest among the scores of all other students who sat for the exam that year.
Q: Did you take up any kind of coaching for the exam? How much did that help you?
A: Yes, I took up coaching in FIITJEE for NTSE 2018. FIITJEE has been very supportive for both the stages of NTSE 2019. They provided us with books to prepare for the exam and conducted various mock tests which helped me analyse areas in which I was making mistakes.
Q. When did you start preparing for NTSE and what kept you motivated and active throughout the preparation to crack the exam?
A: I started preparing from class IX itself as the NTSE syllabus covers questions from the syllabus of 9th and 10th standards, covering subjects like Physics, Chemistry, Mathematics, Biology, Social Sciences and Mental Ability. The motivation, I would say, comes from within. I have always aspired to top in every exam that I sit for. That is something that keeps me inspired and motivated throughout the year.
Q: What strategy did you adopt in order to prepare for NTSE?
A: Time management and accuracy are the most important keys, not just for NTSE, but for all other competitive exams. Apart from covering the syllabus, I focused on building these two key factors. I attended test analysis sessions which were held in the coaching centre. In these sessions, we would discuss the important topics and questions with the teachers. Besides, I used to put in two to three hours of self-study for NTSE every day.
Q: What role did your teachers play behind your success in NTSE?
A: My teachers were very supportive and they have always been one of the most important motivating factors. Whenever I faced any difficulty, I went to them and they helped me overcome all my doubts and fears.
Q: Do you have any tips for NTSE preparation that you would like to share with NTSE aspirants?
A: I think it is very important for students who are preparing for NTSE to take several mock tests. That way we come to know where we are going wrong and we learn to improve on our time management. Taking more number of mock tests also helps us in improving our accuracy. This is because even if we learn how to speed up, we may commit silly mistakes. Thus, the more the practice, the better we do in the final exam.
With the NTSE Topper's interview and below given tips to get good marks in the NTSE exam,
Refer Books of NCERT and State Boards both to complete the syllabus because stage 1 is conducted by the SCERT of the state.
Solve the maximum number of NTSE question papers to get details of difficulty level and marks distribution.
If you want to pursues 12th or undergraduate courses from the science stream, opt for KVPY Scholarship to get some financial help.