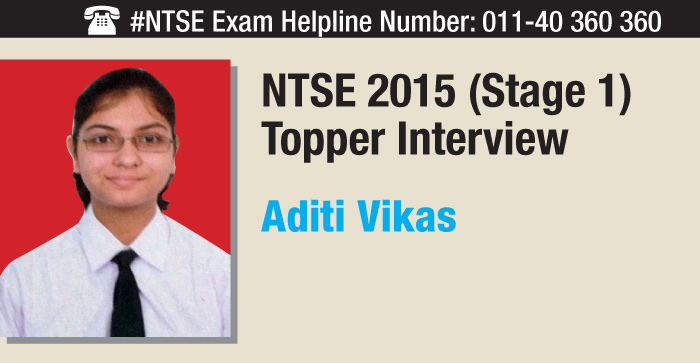 Aditi Vikas, who topped Delhi Zone in the NTSE 2015 Stage 1, secured 137 out of 140 marks in the coveted exam.


In this interview with Careers360, Aditi talks on how clarity in basic concepts and regular practice helped her to achieve the high score in NTSE, which is one of the most difficult national level scholarship exam for school students. She also speaks on her preparation strategy in the first stage, difficulty level and other aspects of the exam and her preparation plan for the next stage of exam.

LATEST - State wise NTSE Result 2018 and NTSE Cutoff 2018 declared! Also know All about NTSE 2018 here.
The result of State Level National Talent Search Examination 2015 (Stage I), which was held on November 2, 2014, was declared on February 19, 2015. The second state of the scholarship exam is scheduled on May 10, 2015.
Click here to Enroll NTSE complete test pack for NTSE stage-I preparation.
Click here to Enroll NTSE complete test pack for NTSE stage-II preparation.
Read interview below:
Careers360: Congratulations for your success in first stage of NTSE! What is the secret of your power performance?
Aditi Vikas: Thank you so much. It became possible only because of regular practice, clear concepts and guidance of my teachers at coaching.
I tried my best and worked hard. Qualifying in such an exam was not possible without rigorous practice of all the subjects. I also put emphasis on consistent practice of reasoning section.
Careers360: How did you find the difficulty level of the exam: overall and section-wise?
Aditi Vikas: I found all sections easy to moderate. Since I had been taking mock tests regularly, it turned out to be very helpful in cracking this exam. I was more comfortable with MAT, and SAT was also not a too tough for me.
Careers360: Please tell us in details about your preparation strategy for Mathematics, Science and Social Studies separately?
Aditi Vikas: I devoted more than two hours each day for NTSE preparations. For Mathematics and Science, I gave one hour but for Social Science, I needed to spend more than an hour daily.
At present, I am only preparing for my Class X exam. After exams, I will start preparation for NTSE Stage 2. All the class tests that I took were a source of confidence and an appropriate medium to analyze my performance.
Careers360: Now you would be appearing for second stage on May 10. What is your strategy for the same?
Aditi Vikas: I would plan in the same way as it was in the last stage but after my Class X exams. My strategy will be same as it was in the first level and I will try my level best for stage 2.
Careers360: What are your expectations with the upcoming NTSE stage?
Aditi Vikas: It's very hectic preparation time for me before this competitive exam. I know that with hard work only, I will be able to crack this exam. I hope for the best.
Careers360: Do you turn to any recreational activity before appearing for the exam?
Aditi Vikas: Yes. Though I get very little time from my preparation schedules, I watch entertainment programs on TV while having my dinner. I like to play outdoor games and sometimes play guitar to recreate myself.
Stay tuned to careers360.com for more news and updates on NTSE Scholarship Exam
Questions related to NTSE