Month-Long Preparation Strategy for Class 10th Board Exams by Mr. Rajesh Kumar Singh (Founder and MD of Kunwar
Month-Long Preparation Strategy for Class 10th Board Exams by Mr. Rajesh Kumar Singh (Founder and MD of Kunwar's Global School) - Class 10 Board exams are beginning from May 4 to June 7, 2021. Covid-19 pandemic postponed the schedule of the board exams and students got some extra time for preparation, they still are bearing much pressure and are not even able to focus well. But there is still a month to go for exams and they have plenty of time to study and prepare well for their CBSE 10th board exams. Following is a Month-long preparation strategy for Class 10th board exams by Mr. Rajesh Kumar Singh: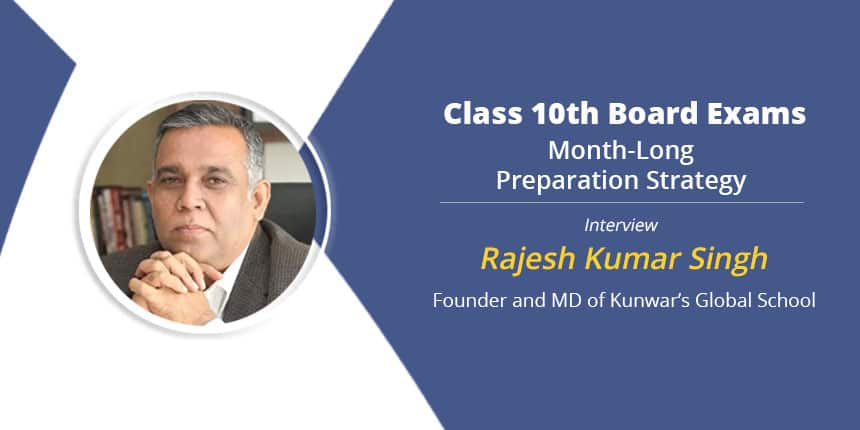 Step-1: Set up a Time Table
It is important to set up a specific subject-wise timetable to keep yourself going. Differentiate between your strong areas and weak areas and divide the study time accordingly. Every subject or chapter doesn't require equal study time, so try to manage your time according to the marking scheme as well.
Students should set up their own time tables according to their interest in subjects and the syllabus left to be covered. They must follow the CBSE 10th time table strictly in order to prepare for their board exams. Setting up and following the time table will help the students in board exams and will also help them in every other exam they'll be undergoing in their lives.
Step-2: Be particular about your studies and your study time
It is very important for you to be particular about your study time. Your studies should be your first priority by now. When you start being particular about your study time, your brain gets trained by your routine and overtime, your studies will become easier for you. Once your brain starts becoming habitual to take information and remember it, you will develop the ability to grasp your notes faster and remember the same for a longer time. Try to study for a minimum of 4 hours daily and gradually increase your study time in order to cover the syllabus before the exams.
Step-3: Set Goals for yourself
It is quite essential to set up goals for yourself as this study method is one of the most effective ones to prepare for any exam. Your daily targets will help you achieve your goals set for each study session. This way you will be able to study with more interest and this will also help you in completing the syllabus before time. Concentrating on one chapter or concept each day will prove to be helpful in better understanding as well.
Step-4: Compulsory Test after every study session
Test yourself every day after every study session. After completion of your targets for the day, review all that was done throughout the day and then give yourself a test or do some practice questions or sample papers. See how much you were able to learn and adapt throughout the day. You will be able to analyse if you are done with a chapter or a concept. There is no problem if you make mistakes or are not able to answer any question, learn it again, revise it and then do the test again. Revision tests will increase your confidence.
Step-5: Sample papers and previous year papers are a must
Solve CBSE sample papers and previous year exam papers as much as possible during your preparation. Solving them will give you an idea about the exam pattern. While practising, you will even find out some concepts in which you are lacking so you can concentrate more on those concepts. Practice from at least 5-10 sample papers or previous year exam papers.
Also, read
Questions related to CBSE Class 10th
Showing 31 out of 31 Questions