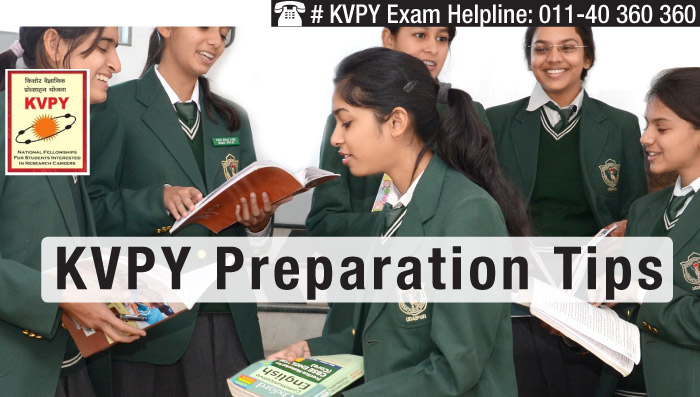 KVPY 2014 preparation tips- Kishore Vaigyanik Protsahan Yojna (KVPY) exam is a highly-competitive exam among the fellowship/scholarship programmes of its kind.
However, students who follow a structured KVPY 2014 preparation plan can get an edge over others. Though, a strong KVPY 2014 preparation strategy and disciplined approach are must for success in KVPY, Careers360 brings you 10 expert tips to hit the bull's eye in KVPY exam.


LATEST -
Know all about KVPY 2018 exam 
Apply for KVPY 2018 registration form

Download KVPY previous years question papers 
Download KVPY 2018 Admit Card
Before we elaborate on KVPY 2014 preparation tips for succeeding in the KVPY exam, let's know basics of this national-level fellowship/scholarship programme.
Premium Help-Talk to our expert counselors for any queries on KVPY Fellowship/Scholarship on 011-40360360 (Paid Service)
KVPY is a national fellowship/scholarship programme in Basic Sciences, conducted by Department of Science and Technology, Government of India. The programme aims to attract motivated students across country to pursue research career and basic science education.
Students of Class XI, XII and B.Sc./B.S./B.Stat./B.Math./Int. M.Sc./M.S First Year are eligible for any of the three KVPY streams – Stream SA, Stream SX and Stream SB. Students can apply by filling up KVPY online application form.
Selection of students for KVPY fellowship/scholarship programme is done in two stages – Aptitude Test and Interview. KVPY aptitude test is a paper-pen format with 100 questions from Mathematics, Physics, Chemistry and Biology to answer.

Click here to Enroll KVPY Class XII Maths Test Series & Know Sureshot Ways to Crack KVPY Exam.
The KVPY 2014 fellowship grants under its various categories by the Department of Science and Technology is given in the table below. These amounts of scholarships to the students are provided until their pre-Ph.D level:
| | | |
| --- | --- | --- |
| BASIC SCIENCES | Monthly Fellowship | Annual Contingency Grant |
| SA/SX/SB - during 1st to 3rd years of - B.Sc./B.S./B.Stat./B.Math. / Integrated M.Sc. /M.S. | Rs. 5000 | Rs. 20000 |
| SA/SX/SB  - during  M. Sc. / 4th to 5th  years of Integrated M.Sc. /M.S | Rs. 7000 | Rs. 28000 |
10 tips to crack KVPY Aptitude Test
Now that we have the basic idea about KVPY fellowship/scholarship programmes, let we discuss how to crack this competitive exam. We bring here 10 KVPY 2014 exam tips for success below:
1.  Analyse your Strengths and Weaknesses
Before getting into preparation mode for KVPY Aptitude Test, it is important for you to know your existing level of preparedness for the KVPY exam. For this you need to check the previous year KVPY papers and analyse where you stand. Thereafter, you need to analyse your strengths and weaknesses based on your existing preparedness and required preparation for KVPY. You should, then, decide how much weightage is to be given to various sections under the time-frame that you have for your KVPY preparation. You need to utilize your strengths and plan to improve on your weaknesses during your preparation.
 
Click here to Enroll KVPY Class XII Bio Test Series & Know Sureshot Ways to Crack KVPY Exam.
2.  Integrate your KVPY preparation with regular studies
Since the questions asked in KVPY is generally based on the syllabus of your regular class X/XI/XII studies, you need to bring clarity as to how you are going to utilize your academic syllabus and integrate your studies with KVPY preparations.
There is no prescribed syllabus for KVPY written exam. The students' understanding and analytical ability of factual knowledge is tested in the written exam. However, students are tested for the syllabus up to class X/XII/1st year of B.Sc./B.S./B.Stat./B.Math./Int./Int. M.Sc./M.S. So, you need to revisit the syllabus of your regular studies to make sure that you have covered all the sections to be asked in KVPY test.
Further, the major parts of syllabus of other competitive exams like JEE Main and JEE Advanced match with that of KVPY exam. This also brings you an opportunity to analyse and base your preparation plan accordingly. You can benefit by preparing for a particular topic for other competitive exam and eventually find the same helping you in KVPY exam. Also, difficulty level of questions asked in KVPY remain similar to that of other competitive exams like JEE Main, JEE Advanced and other Engineering exams.
3.  Refer to NCERT text books
KVPY aptitude test is basically a test of your fundamentals. Therefore, those who have studied NCERT study material thoroughly, cracking KVPY becomes easier. What will be more efficient way to get fundamentals clear than a thorough study of NCERT study material?
4.   Make a four-month strategy: you have enough time
Generally, KVPY is announced in the month of July. This is the time when generally your academic year ends and you have bandwidth to work on the competitive exams like KVPY. The KVPY is generally held in the month of November. Thus you get about 120 days to prepare for this exam. Therefore, make a power-pack strategy for these four months. You need to create an integrated plan which can also take into account of your current academic pursuit. For example, a Class XII student can integrate topics of Class XII Mathematics syllabus in his/her KVPY preparation plan.
5.   Group study: a miracle
Never forget the miracle of group exercise. Nothing is more efficient idea to crack an exam like KVPY than a group exercise. Make a study group of 5-10 friends for regular practice and study. You will find it working magic when every member will come with 10-20 questions a day, thus making you learn at least 50-100 questions every day. But be cautious, you don't get distracted during your group study. Always remember that you all are together for study and not for fun.
6.   Practice and revision: a key
Though you have already prepared for your KVPY along with your class syllabus, but revision of the syllabus is still must for KVPY preparations. Therefore, make a habit of revising topics so that you don't forget what you have already learnt. Also, a routine daily practice and revision are keys to get speed and accuracy in solving questions. It's only the clear concepts and time management during the exam which fetches your name to a noteworthy place in the KVPY merit list.
Especially in the last month of KVPY preparation, students are suggested to revise their class notes, important formulas, facts and key theories, and understand their applications. Opting to study new topics in the last week is not advisable.
7.   Revisit question bank: avoid mistakes
Create a question bank of those questions which you find difficult during your preparation. Practice those questions in the last week. This will help you remember your most common mistakes so that you will not repeat them in KVPY exam hall.
8.   Take as many Mock tests as possible
Mock tests are very important to regularly evaluate your preparation level for KVPY exam. This also helps you to find weak areas and re-do your remaining preparation plan. You KVPY preparation in last two weeks should especially focus on mock tests so that you get accustomed to giving your best efforts in a limited time-frame.
This will help you gain confidence and do away with any kind of nervousness while entering in the exam hall. As you have already solved those papers several times, nothing is going to be new and weird for you in examination hall.
9.    Take sound sleep before the exam day and relax
Go early to bed and get up early in the morning on the KVPY exam day. Seven to eight hours of sleep will help you be ready for your exam. It will also help you digest whatever you have learnt in a day before.
10.  Stay focused and clam during KVPY exam
Keep calm, cool and stable with your mind before exam. Never get stressed and depressed as exam date approaches. Just try to give your best and if you find your performance was not that well, there is not a need to worry. Always remember, it is just an exam. It is not going to judge your past, present or future
Questions related to KVPY