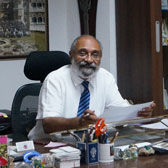 Careers360 interviews Dr. Sumer Singh, Principal of Daly College who shares his views on internationalism as bridge that connects across the globe.
Read the full interview to know what the Daly College principal shares on Global Education and its role in world peace.
Read below excerpts of interview
Multicultural Education, or Global Education, must be practical and multidimensional if it is to serve the cause of world peace. As students in school we are all reasonable and trusting human beings. As we grow older our exposure to specific individuals and ideas can influence our thinking and narrow our vision. It is therefore essential that educators provide positive experiences and exposures to learners so that they become global citizens, accepting diversity of colour, religion and ideologies with a comprehension of how historical baggage impacts current conflicts.
It is through exposure to multiculturalism in the form of travel. One-on-one exchanges, conferences, hosting home stays and becoming part of host's family, MUN's and cultural group exchanges and so on, that we learn to accept and celebrate diversities. We should appreciate how East & West Germany went from military and ideological enmity to unification, how the USA overcame its history of racialism to elect a black President.
Today there are areas of conflict in Kashmir, in Syria, in Palestine, in Korea, in Baluchistan, in Turkey, in Tibet, and in many-many more areas. Terrorism has penetrated to all corners of the globe and fanatics are misguiding youth and misusing religion. Economic inequalities and intolerance is becoming the scourge of this decade and has caused a refugee problem of gigantic proportions. The former colonial powers are being infiltrated, for a better quality of life, by people from their former colonies and this is leading to racial and religious profiling on an unprecedented scale. It is very clear that we as educators cannot keep on our blinkers for much longer. We must play a constructive role in preparing our children for what lies ahead.
During World War I many young volunteers from affluent families in the USA offered their services in France. There was a shortage of ambulance drivers and so this is the work they took up. Later, because of the naval blockade they took up volunteer work in England and then in other parts of the world.
The field work they did as ambulance drivers got them the name American Field Service. Today the name is simply AFS and there are 50,000 volunteers facilitating thousands of youth exchanges between countries all over the world. It is clear that these human intercultural bridges bring about tolerance and dispel ignorance. The friendships that develop are global, both geographically and philosophically. The experiences are life changing.
During World War II, German educator, Kurt Hahn felt that the best way of reducing conflict is through education that goes beyond academics and promotes a better understanding among the youth of the world. His ideas led to the United World Colleges and to Round Square, an association of schools. I wish all students in all schools could benefit from the opportunities provided by AFS and RS. Till then we must work at whatever scale available to provide opportunities for multiculturalism.  
It is essential that educators provide positive experiences and exposures to learners so that they become global citizens, accepting diversity of colour, religion and ideologies with a comprehension of how historical baggage impacts current conflicts
Stay tuned to school.careers360.com for more updates on India's top schools