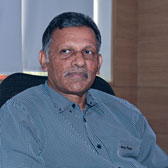 Careers360 interviews Col. Gopal Karunakaran (Retd.), CEO, Shiv Nadar School, Noida who shares his views on private school enrolments and impact of technology on education.
Read the full interview to know about various curriculum.
Read below excerpts of interview
When you look at the last 10 to 15 years from a national perspective, the fact that there is a very large increase in private school enrolments across India is disturbing for a country as large as ours with educational and socio-economic challenges. I think that is a major concern because when you look at all the best schooling systems across the world, whether it's Finnish, English, American, Australian, more than 90 percent of the schools are run by the state. They are public schools. I think it's disturbing that private school enrolments, decade-on-decade are growing at faster than 10 % of enrolments. 
When you look at the curriculum, I think the NCERT syllabus is excellent. In the execution of the curriculum, I think the freedom is with the school as to how you want to put in innovation, entrepreneurship. It's not watertight that because there is this programme, everyone has to run it exactly that same way. So whether you want to run innovation-driven programmes, critical-thinking-driven programmes, that opportunity is left to the school.  And that's what a school like us is endeavouring to do all the time.   
The other concern, obviously, is that boards and the sort of marks that now seem to sway admissions. Is there a way to look at the focus on examinations?  I think that's an area that education policy makers should be looking at. And I think with the New Education Policy, some of those issues are getting addressed and attempting to sort of address them.
When it comes to technology, I think it is here to stay.  The audiovisual component of learning is a huge advantage for something which is done inside a class. I think there are at least, 3-4 components inside a school. One is how technology aids running a school more effectively on the non-curriculum aspects.  So whether it's bus management, whether it's ERP which helps with admission, there's a huge advantage which has happened because of technology.
The other part is about technology in education. At a young age from Grade 7, the child is exposed to animation, graphics, sound recording, robotics and programming. So that is designed for the student and the citizen of tomorrow at a young age to get an understanding of technology, which is going to impact the way he works. 
Third aspect is, what happens inside the classroom, about how technology tools are used. For example, every teacher in the Shiv Nadar School has a laptop, right? So the laptop is essentially an extension of what was a notebook or teaching notes. So whether you use the relevant YouTube video or the links, which will help you to do a quiz with the children, show them a visual, the human heart in 3D, right? So everybody has a projection system and a laptop and a programme, which sort of can put that together. And that's how technology is used to teach many other subjects also. 
When you look at all the best schooling systems across the world, whether it's Finnish, English, American, Australian, more than 90 percent of the schools are run by the state. They are public schools. I think it's disturbing that the private school enrolments, decade-on-decade, are growing at faster than 10 percent of enrolments 
Stay tuned to school.careers360.com for more updates on India's top schools