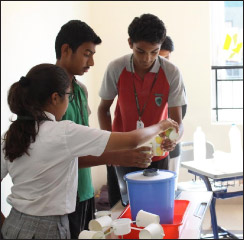 Models of holograms, microbial fuel, generation of electricity from fruit juices, cooked rice with unbreakable starch for Diabetics and various other innovative concepts were showcased at INVENIO 2017. The students of Greenwood High International School, Bangalore celebrated a science exhibition centered on the theme "Technology for Challenges".

The exhibition saw confluence of scientific and creative ideas by young students through various projects and models.  The students exhibited G4 project where they demonstrated knowledge of Physics, Chemistry, Biology, Computer Science and Design Technology. The event also saw incredible models of sustainable farming and mosquito repellent made using Citronella. Middle school and class IX students also presented various models and projects such as Pacemakers, rayon fibres, RFID readers, model GPS, a light sensing robot, radioactive proof headgears, bionic limbs and arms for blind, being majorly appreciated ones amongst the others.
Speaking at the event, Niru Agarwal, Trustee, Greenwood High International School, said, "Scientific innovation is the foundation of the future and it can change the way that we live. Models displayed at the exhibition show that academics should not be restricted to books, but also allow for practical application of concepts. This exhibition was organised to stimulate scientific curiosity in the students through practical application and help them delve deeper to understand the technicalities of innovation."
She added, "Students have put in a lot of effort in preparing the projects. It is good to see that their ideas are new and different. Greenwood High has always encouraged 'hands-on-learning' as it helps develop critical thinking skills among the students. INVENIO 2017 provided them yet another platform to successfully showcase their creativity and academic brilliance."
Stay tuned to school.careers360.com for more news and updates.