DIOS Organises Vigyan Sangoshti At Amity International Vasundhara Sec-6
District Inspector of Schools (DIOS) recently organised Vigyan Sangoshti at Amity International Vasundhara Sec-6. Students presented on the topic 'Basic Science for Sustainable Development Challenges and Prospects'. Adite Sharma of Class 10 bagged 1st position at the zonal level and will now represent the state at Vigyan Sansthan, Prayagraj. Her project, 'Suraksha Box (UVC-Sterilization System)', focused on eliminating dangerous germs and viruses which are harmful for human beings.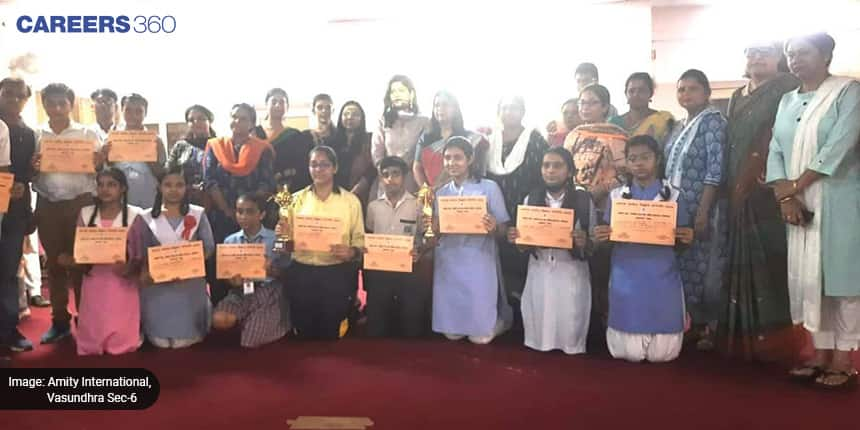 About Amity International Vasundhara Sec-6
Amity International School, Vasundhra Sec-6 was founded by Ashok K. Chauhan. It is the seventh school in the chain of Amity Group of Schools run by a non-profit organization, RBEF under the chairpersonship of Amita Chauhan. Amity International School is co-ed school affiliated to the Central Board of Secondary Education (CBSE) and accommodates close to 2000 students.
"The school provides a student-friendly curriculum that emphasises childrens' overall development from Class Nursery to Class 12. With the best facilities, the most cutting-edge curriculum, and an environment that promotes holistic development, students have a wealth of opportunities to grow into thoughtful, prudent, and sound people who can firmly uphold the value of fusing modernity with tradition", says the school's website.
"Life teaches us the importance of three qualities - knowledge, hard work and perseverance. With this spirit, Amity International School, Vasundhara, Sector 6 is heading with passion and a great driving force, forging ahead to take over the surging waves and let the victory flag soar high", remarks Amity International Vasundhara principal Sunila Athley.
Amity International School, Vasundhra 6: Other Achievements
Amity International School, Vasundhra 6, skating coach, Mohd Haseen recently represented Team India at Figure Skating Development Camp in Manila, Philippines. The event was organised by the Ice Skating Association of India (ISAI) in collaboration with the International Skating Union (ISU) and the Philippine Skating Union (PHSU). Team India won two medals—a silver and a bronze—under the leadership of Mohd Haseen.
We'd love to know what's happening in your campus - achievements, awards, camps, workshops, and the various competitions that your students and teachers may participate in. Send us the details on schoolevents@careers360.com