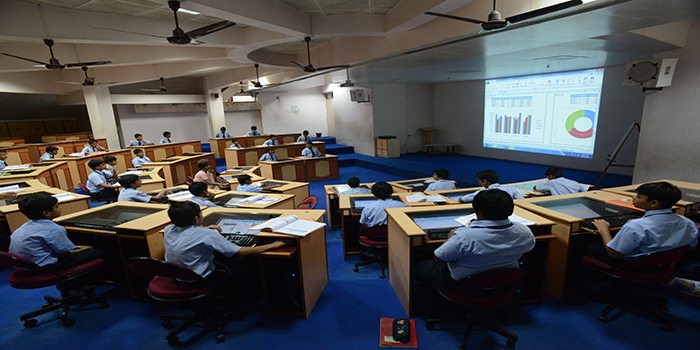 Megha Aggarwal, 23 Nov 2017
Classrooms across India are getting a digital makeover as teachers become 'facilitators' to a hi-tech generation of students. Careers360 tell you why digitisation of education is the future. Read on to know more.
The use of technology in school education started much before computers became synonymous with it. "Educational TV was in vogue in the 1990s and in 2004 India even sent up an Educational Satellite. A large tele-education network existed well before the use of computers commenced in schools," recounts Subir Shukla, Principal Coordinator at IgnusERG, an education consultancy working extensively with the government as well as national and international NGOs and institutions.
Digitalisation in school education
Computer Aided Learning Programmes (CALPs) were introduced in the 1990s and successive governments at the Centre and in the States launched schemes to promote digitalisation in school education. One of the earliest examples was the Headstart project that was launched in November 2000 under the Rajiv Gandhi Shiksha Mission to familiarise school children in rural areas with Information and Communication Technologies. The present government is also set to provide tablets to thousands of Kendriya Vidyalayas across the country for teaching Maths and Science.
Such initiatives have propelled the growth of education technology in the country and several Ed-Tech companies supply a range of learning tools to schools. Today, the Kindergarten to Class 12 (K-12) segment has millions invested in it, with more than 35 per cent of ed-tech businesses operating in this space.
However, the tech wave truly took off when the internet became commonplace and mobile phones became a common commodity. With more and more people accessing the internet using mobile data, technology is spreading its wings across the country and mobile apps have led to a surge in the use of education technology.
What's replacing 'chalk and talk'?
In the early to mid 2000s, computers became the ubiquitous form of technology used in schools. However, their usage was restricted to computer laboratories supplied with a set of machines. But today, various forms of technology are used by schools.
Corroborates Sanjali Dhar, a facilitator at the DLF Public School, Ghaziabad, "Technology is transforming the way we teach. Instead of writing on blackboards, we use smart boards to play a variety of multimedia content, such as videos, to explain different concepts to the children. We also use Chrysalis books for different subjects and Mindspark, an adaptive learning program by Education Initiatives for Maths and Language learning."
Facilitating digital learning
Many technology majors have also introduced programmes to facilitate such learning. For example, the Microsoft Schools Programme is a global community of schools that uses Windows devices and tools such as Office 365, OneNote and Skype to transform teaching and learning, especially in Science, Technology, Engineering and Maths (STEM)-based subjects. Shares Dhar, "Our school is a Microsoft school and teachers actively use Microsoft tools to engage students. For example, one of our teachers recently went to Canada to make a presentation on how she and her class researched on Monarch Butterflies and used these tools to put it together. Such initiatives not only inspire students but also motivate teachers."
It is also worth noting that the use of technology in schools is not limited to teaching but also extends to maintaining school websites, web magazines, digital libraries as well as other activities such as marking attendance, sending e-alerts to parents when children are absent and storing various records such as health reports and report cards.
Technological interventions are increasing at various levels and seek to engage all stakeholders – from students and teachers to administrators, parents as well as curriculum developers and policy makers. For instance, the National Council of Educational Research and Training (NCERT) has developed e-Pathshala for showcasing and disseminating a variety of print and non-print educational resources.
Technology is ever-changing and the ways in which it's being employed in school education are also ever-evolving.
The need for digitalisation
Apart from being a professional prerequisite, technology is increasingly becoming a part of our everyday lives. From net banking and paying bills to shopping and booking cabs, a number of chores are going online. The ever-growing professional and personal need for technical know-how is one of the major driving forces behind increasing digitalisation in schools.
Besides, the widespread use of technology, especially mobile phones, has meant that children are accustomed to it and have a natural curiosity and flair. Hence, teaching them using technology is a natural transition in the education system. Rohit Prakash, Co-founder at iDream Education, a social ed-tech enterprise working with underserved learners in rural and semi-urban India, corroborates, "Every home may not have a computer but most of them have a mobile phone and it is common to see children occupied with it. They play games, watch videos and listen to songs. When schools provide them education using these means, they take to it naturally and with a lot of interest."
Challenges galore
However, the use of technology comes with its own set of challenges, often arising from intrinsic inequalities rampant in our country. Some of the common problems include infrastructural inequities and a lack of connectivity and funds.
Varsha from the Anand Niketan Democratic School in Bhopal shares, "Funding is a struggle and we don't have the necessary infrastructure to support too much digitalisation in our school. We have around one-two computers and seven-eight tablets on which the children can work." 
Prakash adds, "Maintaining and procuring technology is a struggle in many cases. It is a cumbersome process that involves placing a request and waiting for days even for a small part or repair work.
"Teacher training is also a problem. Teachers have a number of responsibilities in addition to teaching and sometimes the way technology is introduced in schools, it appears like an additional burden on the teacher who needs to first learn it and then ensure that students use it. Hence, some schools are averse to using it regularly."
Technology- curriculum connect
Such issues are sometimes an outcome of technological interventions that don't sit well with the requirements of a school. Pinky Singh, a primary teacher at St Xavier's School, Jaipur, elucidates, "We at schools are bound by a syllabus and examination system. Sometimes the content is not in sync with the syllabus and we need to add certain videos and other things to make it more relevant. The success of any technology will depend on how well it can integrate with the existing education system and help teachers in explaining concepts to the students in a timely and effective manner."
What's missing in many cases is a seamless assimilation of technology with school education. Well thought out technology is often personalised and helps students develop their own understanding of a lesson instead of 'giving' it to them. This not only helps in improving learning outcomes, but also aids in assessment.
Shukla finds that problems arise when technology use is driven by vendors rather than educators. "Putting the textbook on the screen with a little bit of add-on interaction or merely providing versions of lectures doesn't change the educational situation much... if a child was not learning before, it is unlikely that he/she will learn now, as after a point it seems no different from the earlier burdensome experience. A different kind of process is required, and it is often not utilized by those thrusting ed-tech on to schools."
He adds, "By 2005, the Government had ordered a major review and overhaul of the Computer- Aided Learning Programme (CALP). Azim Premji Foundation, which had run its own CALP in thousands of schools, took the bold decision to discontinue it and instead focus on face-to-face interaction. The work of Kentaro Tayoma, who was head of tech-enabled education for Microsoft in India and implemented around 50 projects, revealed that technology only increased the gap between the haves and have-nots without adding much."
In a diverse country like India which speaks in many tongues, localising content and developing it in regional languages is also a challenge.
Finally, as reflected in the recent uproar over the Blue Whale Challenge, it is essential to regulate the use of technology by students and tell the constructive from the destructive.
Overcoming obstacles
Despite the myriad challenges, technology can play a pivotal role in school education and various stakeholders are striving to manoeuvre the obstacle course.
For instance, in Dahanu, a tribal village in Maharashtra, Hemant Babu and Michelle Chawla have actively engaged with the local community to set up a hugely successful model of digitalisation at their school, Tamarind Tree, using energy-efficient and economical technology.
To overcome last-mile connectivity issues, they use a Wireless Mesh Network (WMN), created and owned with a lot of landholding through active participation and, where possible, financial contribution by the community. This allows them to host critical infrastructure such as a video server, without incurring the prohibitive data charges of the GSM network.
They also have power back-up to overcome electricity shortfalls. However, they are extremely sensitive to the economical use of electricity. For instance, they use a number of Single Board Computers (SBCs) that are not only economical but also more energy efficient than regular computers.
The school is also part of a global movement promoting the use of Open Educational Resources for equity. Hence, all their machines use the free Linux Operating System and gamification tools such as G Compris, Tux Math and Tux Paint that are on the open domain.
Last word
The greatest achievement of schools like Tamarind Tree has been their success in fighting off the challenges to make technology an equalizer in education and bridge the gap between the haves and the have nots. "At our school, tribal children as young as 4 years are interacting with machines and 12-13 year olds are engaging with computer coding – many of them are first generation learners who come from families that have no concept of time or age in years! We challenge them to use technology to apply their learning. We also host an e-library with over 2000 e-books in English, Hindi and Marathi that are in the public domain, periodicals and dailies, which they would not have access to otherwise. Using the WMN we are working on implementing a school without walls, where educational content from Tamarind Tree is not only available to its students at home but can also be accessed by more than 25 government and semi-aided schools in the region," says Chawla.