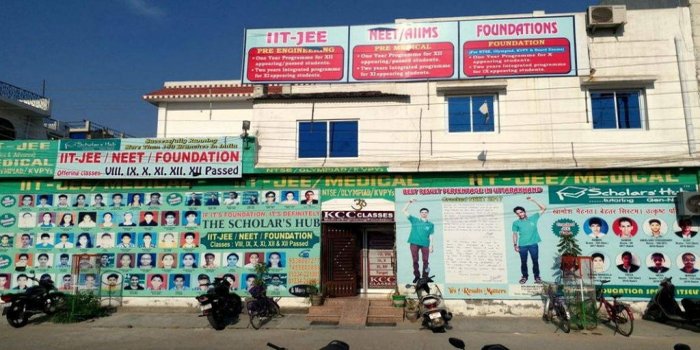 In 2018, over 13 lakh students competed for admission to medical colleges through the National Eligibility cum Entrance Test (NEET), considered one of the toughest medical examinations in India. To not just crack this examination but to come out first is no mean feat. But, Kalpana Kumari of Bihar did more than just top NEET 2018. She also topped the Bihar intermediate examinations in the science stream with 86.8 per cent. A student of Yugal Kishore Jaymangal College of Tariyani Block in Bihar's Sheohar district, Kalpana did her coaching from Aakash coaching institute in Delhi. The topper has dedicated her performance to the institute, including in a video by Aakash itself. But here is where the questions arise.
In the video, it is explicitly mentioned that Kalpana is a regular student at Aakash. She was pursuing the two-year integrated classroom programme in Delhi. But how did a student attending regular classes in Sheohar also attend classes in Delhi, at the same time?
The video, further, shows Kalpana, attending a class at Aakash(part of the promotional video), saying that the institute conducts fortnightly and term tests, "which are good enough to check your basic concepts and grasp on different topics because these are held each and every week..so every short topics are asked in these, to help you realise that topic is a strong or not(sic)". While Kalpana does not specifically state in Aakash's video whether or not she took the tests, in a video interaction with Careers360, she says that she was enrolled with Aakash institute and it was beneficial for her as she had to take many tests which let her understand her strong and weak areas.
Here are clips from both the videos:
Aakash Institute:
Careers360:
The big question here is that how can a student who lives and studies in Sheohar, which is 3 and ½ hours from Patna, travel to Delhi every fortnight (given that she said she took the tests)?
The bigger question is did Kalpana study in Aakash, Delhi full-time and skipped her classes at Yugal Kishore Jaymangal College, thus following a system known across the coaching sector as 'dummy admission'? 
If yes, Kalpana would not be the only NEET topper embroiled in this system. Prince Choudhary, ranked fifth in NEET, said to us that he was a regular student at Allen Kota and did not attend classes at his school, Vijay Memorial Senior Secondary, Dhorimana in Rajasthan. When prodded about attendance requirement, he says, "Aisa toh yaha har koi karta he. Regular schooling koi nai karta he, regular coaching har koi karta he...school jane ki jaroorat hi nai padi"
Dummy admissions everywhere
These would not be isolated instances of students turning towards dummy admissions to fulfill their dreams. In fact, many students who live in tier 2 and 3 cities go to Delhi or Kota to do full-time coaching, while being enrolled as students in schools, either in their hometowns or in the city where they are pursuing their coaching. One such example is that of Sanjay(name changed), who is, currently, taking coaching in Vidyamandir Classes and is enrolled in a public school in Pitampura. Sanjay, who is from Shamli, Uttar Pradesh, tells us that he does not attend school but goes for classes at Vidyamandir. "Most of the students who go for coaching follow this path. The school management handles it. We do go for term and final exams, though."
Also, when Careers360 spoke to a representative at Aakash Institute, Punjabi Bagh, we were told that while the institute does not involve itself in such cases, some students do a "setting" with their schools before coming to their centres.  
Interestingly, a quick google search reveals centres which specifically cater to these kinds of admission processes. In fact, there are many queries on platforms like Quora asking about schools offering dummy admissions. The list of answers is long. Here is a screen grab of  'Apex Institute' which promises Dummy/Non-attending admission to students preparing for NEET or JEE, the entrance examination for engineering aspirants.
In the entire process, the focus on money is huge. As Sanjay revealed the numbers, he has paid Rs. 2.5 lakhs to the coaching centre and Rs. 1.4 lakh to the school. To add to that, he has to spent at least Rs. 15,000 per month. This, before even being admitted to colleges to pursue his studies. A point to note here is that the school is charging a huge fee even when it does not invest in the education of the student, except for tests.
Not required to attend school? 
In the hullabaloo that has been created over Kalpana's attendance at her college, the Bihar School Admission Board(BSEB) released a press release which tries to mar the whole attendance controversy. When asked whether there is any guideline for minimum attendance for intermediate students, the board responded that according to BSEB guidelines there is no such provision regarding minimum attendance for students.
Here is the BSEB press release:
Does that mean that students have to just enroll for intermediate classes and not attend their schools? In that case, what is the point of having faculty members? Also, has the entire intermediate schooling system become redundant in the state? If students have to pursue their studies in coaching centres to perform in both 12th standard and at entrance examinations, where does that leave intermediate colleges, especially, for science streams?