CGBSE 12th Preparation Tips 2021 - Check Tips & Trick to Crack the Exams
CGBSE 12th Preparation Tips 2021 - Chhattisgarh Board Class 12 students have a common query 'How to prepare for CGBSE 12th exams?'. So below we are providing CG Board 12th preparation tips 2021. These CGBSE Class 12 preparation tips derived from previous year toppers article and experts suggestions. Knowing syllabus and preparing accordingly is one of the most important CGBSE 12th preparation tips for 2021. CG Board will conduct Class 12 exams in March 2020. These CG Board 12th preparation tips 2021 are much helpful to prepare for board exams and for competitive exams as well. These will also aid you to not only scoring marks but also attain the knowledge. Read below to know more about CGBSE 12th preparation tips 2021.
Latest: Know CGBSE 12th admit card 2021 date and details.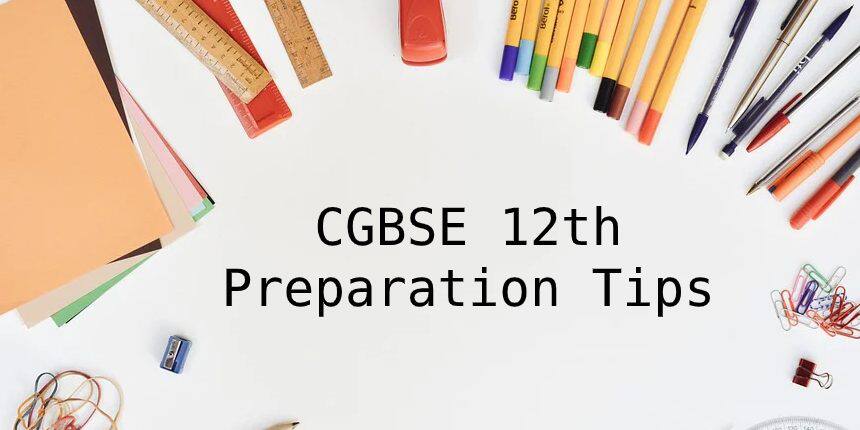 1. Go Through the Syllabus
This is the first and one of the most important CG board 12th preparation tips.
Knowing the syllabus is the most important thing while preparing for any exam. So, first of all, You should go through CGBSE Class 12 syllabus 2021.
They should identify the topics they need to study and set the priority of topics. Thus, they will have an idea of how to start the study, which are important topics and several other important aspects.
Also, they should analyze the CGBSE 12th exam pattern and know the weightage of each topic and plan accordingly.
2. Make a Study Schedule
Next preparation tip of CGBSE 12th exams is to prepare a study time table and follow the same to study in a structured manner. While making a study schedule, you should devote time to all subjects in a shuffled manner. Also, include some time for hobbies and interests to keep the mind fresh.
Go through the CGBSE 12th time table 2021 and make such a time table that the entire syllabus will be covered at least two months before the exams. Then, start revision to grab the topics.
3. Refer prescribed and reference books
After identifying the topics to study, you should grasp all the topics from prescribed books. These books comprise the knowledge of all the topics in easy and simple language. NCERT books are the best source to prepare for class 12 exams.
After the prescribed books, you can move on other reference books to practise with more questions on particular topics.
4. Maintain a Separate Notebook for Each Subject
It is a good habit to maintain a separate notebook for each subject, where you can note down the important points, summary of chapters, answers to the questions in your own words. These notebooks are much helpful while revision and get better marks in CGBSE 12th result 2021.
5. Clear all the Doubts
There is a common saying 'A little knowledge is a dangerous thing'. So, if you have any doubt regarding any topic then get it cleared and grasp the concepts. Keeping the doubts as it is may mislead. You can contact respective subject teachers, seniors or classmates to get your doubts cleared.
5. Practise, Practise and Practise
As you know, Practise makes the man perfect.
So, you should solve previous years' CG board 12th question papers to be familiar with the types of questions asked, level of questions, marking scheme and other details.
After solving the sample paper, you should analyze the preparation level and identify the weak points. Then, work on them and grasp all the topics. CGBSE 12th toppers also say to solve practise papers to have insights into real exams.
6. Stay Healthy, Stay Positive
There is a common and true saying 'Healthy mind lives in a healthy body'. So keep yourself fit.
Have a proper and balanced diet.

Drink water while studying to stay hydrated

Do some light exercises to keep mind and body fit.

Go for a morning walk to keep the mind fresh.
Frequently Asked Question (FAQs) - CGBSE 12th Preparation Tips 2021 - Check Tips & Trick to Crack the Exams
Question: When will CGBSE 12th 2021 exams be held?
Answer:
CGBSE 12th exams 2021 will be held in the month of March 2021.
Question: When should I complete the syllabus to perform better in the exams?
Answer:
As per CGBSE 12th Preparation Tips 2021, you should complete the entire syllabus by the mid of January 2021 and then, start revision.
Question: Can I prepare for CGBSE 12th exams in one month?
Answer:
You can prepare for the exams within a month with a proper preparation plan and dedication. Thus, you will be able to secure decent marks.
Question: Will CGBSE supplementary exams be more difficult than annual exams?
Answer:
No, the difficulty level of supplementary exams is kept a bit lower than annual exams to provide students with one more chance to clear the exams.
Questions related to CGBSE 12th
Showing 3 out of 3 Questions
26 Views
is English language compulsory in CGBSE?
Hello Aspirant,
I don't know about this exactly. Since, most of the states consider english as an essential language.  I think in CGBSE also English language may be compulsory. Once go through the below link, you may get answers.
https://www.extramarks.com/syllabus/cbse-class-10
Hope this would help you
ALL THE BEST!!!!
25 Views
12th board exam ki tayari kaise kare
Greetings aspirant!
Preparation will be in your hand. I can only give you tips and tricks, it is you who need to work hard and be consistent.
Start preparing from now itself. It will give you less burden at the end.
Give equal time to each subject. Try making a time table.
practice as many questions you can.
Show teacher your answers, especially in English.
Solve previous year question papers.
talk to your seniors about their experience during board exam
At the end it is just an exam, no need to freak out. Start preparing from now itself, so that it doesn't give you burden and stress later.
all the best!