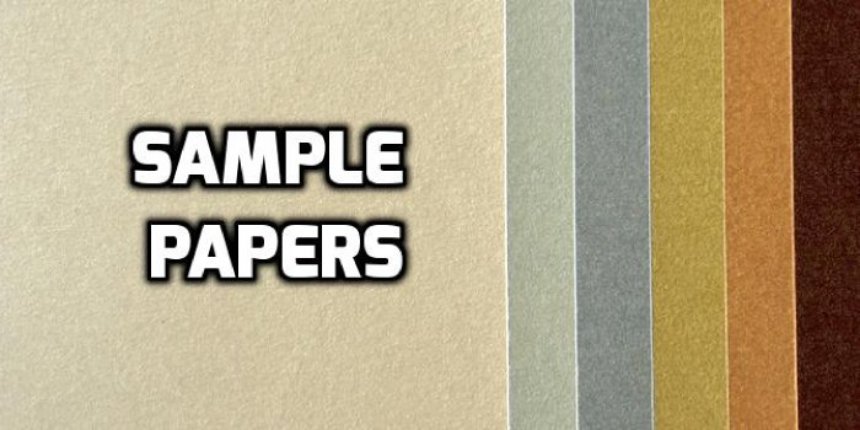 CBSE Class 12 Sample Papers 2019 – Central Board of Secondary Education has released the CBSE class 12 sample papers for the students preparing for the exam. CBSE 12th sample papers for Arts, Science and Commerce streams are available online on the official website and same can be downloaded from the links given below. Students can practice these CBSE sample papers for class 12 after covering the syllabus in order to familiarize themselves with the paper pattern of All India Senior Secondary Certificate Examination (AISSCE) and prepare better. The thorough practice of CBSE class 12 sample papers will acquaint candidates with the difficulty level and type of questions asked in the board exam. Careers360 has provided the official CBSE 12th sample papers of three consecutive years below on this page. The Board will conduct AISSCE or CBSE class 12 exams from February 15 till April 3, 2019. Scroll down for more on CBSE class 12 sample papers, link to download and other related information. 
Steps to download CBSE Class 12 Sample Papers
The stepwise procedure to download CBSE 12th sample papers has been given below:
JEE Main Sample Paper
Download Free Sample Paper For JEE Main
Download Now
Step 1: Click on the link to download CBSE Class 12 Sample Papers against each subject from the table given below.
Step 2: In the login page, enter login credentials such as user ID and password
Step 3: Download sample papers of CBSE 12th from Careers360 sample paper store
Step 4: Go through the sample papers thoroughly and start practising
CBSE Sample Papers for Class 12 – Subjects Included
AISSCE sample papers are available for the years 2016, 2017 and 2018 for the following subjects: 
Subjects and links for CBSE Class 12 Sample Papers
How are CBSE Class 12 Sample Papers useful?
There are several books and sample papers of CBSE 12th which can be bought from the market. On the other hand, CBSE sample papers of class 12 are available online and easy to access. A few benefits of CBSE class 12 sample papers are given below:
CBSE 12th sample papers help candidates get an idea about the paper pattern and difficulty level of the exam.

The sample papers of CBSE class 12 acquaint candidates with the type of questions that are asked in CBSE 12th Board.

With the practice of AISSCE sample papers, students will be able to identify their weak areas and work on the same.
The Marking scheme of CBSE class 12 exam is different for the each paper. As per CBSE exam pattern, each paper is held for total 100 marks. Further, subjects with practicals carry 70 marks for theory and 30 marks for practicals. As per CBSE class 12 syllabus, students of all streams have to appear for the English paper. Arts stream students have to sit for papers like History, Geography, Sociology etc. and those in the Science stream have Physics, Chemistry, Mathematics and Biology among others as subjects. Students of the Commerce stream, on the other hand, have to appear for subjects such as Accountancy, Entrepreneurship and so on. Solving CBSE class 12 sample papers will help students understand the exam pattern better. This will also help them identify which sections from CBSE 12th syllabus carry more weightage.
CBSE has released the CBSE class 12 date sheet on December 23, 2019. The date sheet mentions the detailed exam schedule including the date and timing for each subject. The board exams will begin on February 15, 2019 and conclude on April 3, 2019. Students must download the CBSE class 12 date sheet in the form of pdf and plan their revision accordingly. They must complete the CBSE class 12 syllabus before that and keep on practicing CBSE class 12 Sample Papers 2019 as much as possible.
CBSE 12th Preparation Tips
CBSE class 12 is a crucial stage in every child's life. They must prepare thoroughly for it. Some of the important tips are listed below along with subject wise preparation tips listed in the table below.
Complete CBSE class 12 syllabus. Avoid skipping any relevant topic.
Practice as many CBSE class 12 sample papers and previous year question papers as much possible.
Take regular breaks. Eat and sleep well.
Seek expert guidance wherever required.
For subjectwise preparation tips check the links in the table below
The result of CBSE class 12th will be released in the first week of June, 2019. It will be available in online mode and student can download the same by entering their roll number, centre number and school number in the result login window. The result declared in online mode is provisional and a student must collect the mark sheet along with other documents from the school authorities a few days after the declaration of the result.
More like CBSE Class 12th
Questions related to CBSE Class 12th