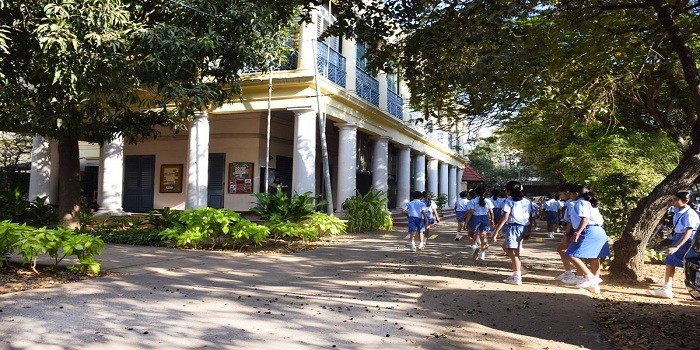 A unique admission policy and vision for the future have been the strength of Sishya School, Chennai, the institution founded by a former headmaster. More than 60% of the students earned admission to school in the year they were born. Read on to more about the school which embraces technology.
More than 60 percent of Senior Secondary students currently studying at the Sishya School earned their admission to the institution when they were born. According to the school's admission policy, parents register their children in the year of their birth. As soon as the registrations are done, more than 60 percent are confirmed immediately. The rest of the students are siblings, children of alumni, and Christians, as per the status of the school as a minority institution.
Origins
There are many interesting things about the Sishya School, founded in 1972 by M I Thomas, a native of Kerala who had retired before as Headmaster of Ootty's Lovedale School. When it started, the school had six thatched huts for classes, something now illegal. From thatched huts, the classes moved to the spacious interiors of a palace in the Adayar neighbourhood. The heritage building, which still stands, is part of the erstwhile Travancore royal family palace, called Ramalayam. "There were 25 students and five teachers in the beginning," says Dr. Salim Thomas, son of the school founder and who retired as a doctor in the armed forces. "My father taught English. Even today his former students remember his classes," says Dr. Thomas, who succeeded his father as chairman of the school.
Academic vibrancy
There are a thousand students in the school today, 180 of them in Senior Secondary. Sishya, which follows the ICSE syllabus, is on many lists of top 10 schools in India. The national rank holders in ICSE two years ago were from Sishya. Last year, the top two from Tamil Nadu were Shishya students. This year, that record became top three. At least ten Sishya students have been recipients of the Government of India's scholarship in the last four years for 10 percent of the national toppers to study science.
It has been a difficult journey for the school. "ICSE was not a popular examination board," says Dr. Thomas. "Our students back then were mostly children of those who came on transfer from Mumbai to Chennai. Many schools in Tamil Nadu were teaching Plus Two in Tamil," he adds. Everything changed when Information Technology came to Chennai. "Suddenly everybody wanted to study English," he says.
The filmy touch
Sishya has been a favourite school of the film stars in Chennai, the traditional capital of cinema in South India. "They send their children to study in our school," says Dr Thomas. Actor Shobhana was a former student of Sishya and her daughter is now studying here. Malayalam superstar Mammootty also sent his son Dulker to Sishya. "My father said Indian education system was very restricted," says Dr. Thomas. "He said they take away childhood from children. His aim was to make children continue to be children. Before we started using words like 'holistic and child-centric education', he was doing it." Senior Thomas came to the school every day until he fell seriously ill and passed away in 1972. In the school Chairman's room he kept drawings and paintings of his students, all properly framed and hung on the wall. "We have a big art department," says Dr. Thomas. Sishya was one of the first schools in Tamil Nadu to start humanities in the Senior Secondary classes.
Technology in focus
Dr. Thomas is continuing from where his father had left. "There is one question I always ask the parents. Are the children happy to come to the school? We have to provide them an atmosphere where they learn, but are also happy." The school has also embraced technology, building a wifi-enabled campus and smart classrooms. "The future is going to be Virtual Reality and Augmented Reality," says Dr. Thomas. "Earlier we used to say, 'chalk and talk', now it is all multimedia. When you are teaching William Shakespeare, you can go to Rome to show children where Julius Ceasar was killed."
Dr. Thomas, however, warns against the heavy load of learning for today's students. "We must reduce the amount which is taught in school and increase the amount taught in college. Especially the CBSE and ICSE students, when they go to college, they are repeating what they have studied, which is a waste," he says. Last year, Sishya School hosted a Model United Nations Conference on contemporary issues. More than 30 schools from home and abroad took part in the 3-day conference, which discussed topics such as increasing macroeconomic stability to prevent financial crises, UN Security Council reforms, the refugee crisis, maintaining a green economy and achieving the United Nations' sustainable development goals.
The French connect
Sishya has also added a separate school on the campus with French as medium of instruction. Ecole Franco Indian Sishya, launched in 2011, caters to children of executives of French companies in the automobile and allied sectors and those working in the Metro rail projects in the city. The school has 40 students, who study up to the Class X level. For the senior classes, they go to the French school in Pondicherry.