Top 10 Careers in Science
Top 10 Careers in Science - Science is the most versatile stream among all the streams. Instead of limited to one or two, an infinite number of career opportunities from government jobs to software engineers, are available in Science. The right career choices will definitely lead to a bright future. Thus, students need to think wisely while choosing a career, this single step will decide their complete future. The science stream is segregated into PCB and PCM. Students have to choose the stream while taking admission in class 11th. While choosing a stream, students must focus on their interests. If one is interested in technical aspects, then they must choose PCM in class the 11th. Wherein, if one feels more connected towards nature and humans, then PCB is the right stream for them. Students who will opt for PCM must have problem-solving skills, numerical efficiency, and technologically sound. For PCB, Practical knowledge is compulsory. After pursuing 12th from PCM, students will have a number of options to choose from as a career such as Engineering, Architect, Pilot, etc. PCB students have options from Doctors, Nurse, Scientists,etc. Read further to know in detail about the top 10 careers in Science.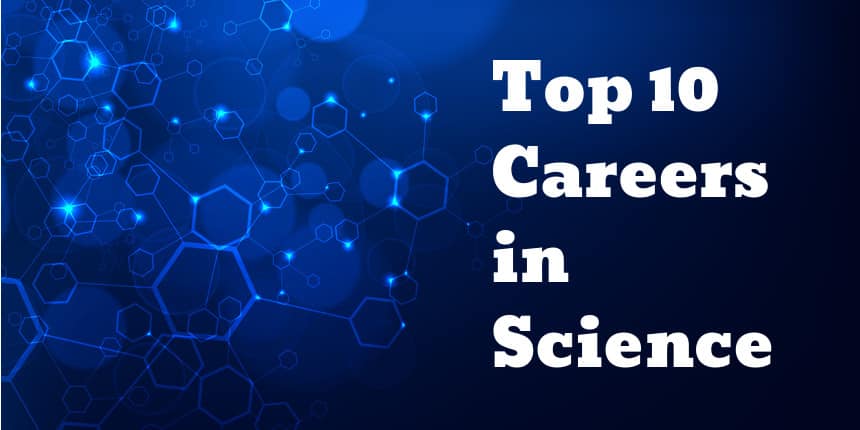 Top 10 Careers in Science
Careers

Skills required

Eligibility

Expected salary (Per annum)

Engineer

Technical expertise

Programming skills analyzing Information, General Programming Skills,

Good communication skills

Problem-solving skills

Teamwork

B.Tech/BE degree




Rs. 3 Lakhs to upto 10 Lakhs

Doctor

Ability to solve problems.

Effective decision-making skills.

Leadership and management skills

Good practical skills

MBBS/BDS/BHMS/BUMS

Rs. 5 Lakhs to Rs. 12 Lakhs

Architect

Numerical skills

Proficiency in designing

Creativity

B.Arch

Rs. 4 Lakhs to 10 Lakhs

Pilot

Leadership skills

Good communication skills

Hand-Eye coordination

System skills

Pilot license

To become a Pilot at the Indian Air Force (IAF), they need to clear the NDA examination.

Rs. 6 Lakhs to 10 Lakhs

Data Scientist

Knowledge of analytical tools

Data visualization

Coding

B.tech from IT or computer science

Rs. 3.5 Lakhs to 9 Lakhs

Veterinarian

Love for animals

Methodical approach

Scientific ability

Communication skills

Rs. 2.5 Lakhs to 5 Lakhs

Agricultural Scientist

Laboratory & field research

Data analysis

Knowledge of biosecurity measures

masters degree in Agri-Botany/ Agri-Biotechnology/ Agri-Chemistry/ Agri-Economic/ Social forestry.




Rs. 5.5 Lakhs to 11 Lakhs

Biomedical Engineer

Operation Monitoring

Knowledge of equipment

Management of Material Resources

Bachelor's degree in Biomedical Engineering

Rs. 3 Lakhs to 10 Lakhs

Nurse

Excellent communication skills

Alert and observant

Critical thinking

General Nursing & Midwifery course

B.Sc. Nursing

Rs. 3.2 Lakhs to 7.8 Lakhs

Government Jobs

Good communication skills.

Patience and Hardwork

Bachelor's degree in any field.

Rs. 3 Lakhs to 7 Lakhs
Engineer
From buildings, smartphones to automobiles and computers, the scope of engineering is wide and it offers a diversity of career options. It is among the highest demanding career among the top 10 careers in science. Most of the sectors in our society depend upon the efficiency of engineers. The key skills required for becoming a successful engineer include problem-solving skills, technical efficiency, research, prototypes, design, maintenance, and production. There are several disciplines of engineering such as Electrical, Mechanical, Computers, etc. Students have to choose one while taking admissions to graduation.
How to apply - To start a career in engineering, B.Tech/ BE degree is a must. To pursue B.Tech, Students can appear in the entrance examination of various top level institutions such as IIT JEE, BITSAT, VITEEE, etc. Post-graduation i.e. M.Tech/ ME is required to be top-notch engineer.
Career growth for Engineers-
This career in the science stream will always be in demand at domestic as well as at the international level. Career opportunities for engineers are available from the Associate level to Managerial level. With good technical skills and hard work, one can earn upto 20 lakhs per annum in this field.
Top Employers
Google

Microsoft

Apple

Deloitte

Accenture
Doctor
This is one of the highly paid jobs in the world and that is why it is included in the top 10 careers in science. Apart from monetary benefits, the doctor earns love and respect from everyone. To become a successful doctor, you should be emotionally and mentally strong and it is a must to have the compassion to help others and the ability to tackle situations in a calm and composed manner.
How to apply - To become a Doctor, one must hold the degree of MBBS/BDS/BHMS/BUMS. Students can take admission in these degree courses by appearing in NEET. AIIMS conducts there seperate entrance examination for admission in MBBS. After completion of bachelor's, students can pursue Masters in any specialized field such as a Gynecologist, Medicine, Surgery, etc.
Career growth for Doctors - Doctors can either join a government hospital for practice or they can also opt for practicing in private hospitals. By practicing in hospitals, doctors can earn up to 1 lakh per month. Another option for doctors is to open their own clinic and continue practicing from there for additional income up to 5 lakh per month.
Top Employers
All India Institute of Medical Sciences.

PGIMER Chandigarh.

Sir Ganga Ram Hospital, New Delhi

Apollo Hospital

Fortis
This field is full of creativity and new ideas. The career as an Architect has a high potential of growth. Architects are mainly responsible for designing residential and commercial buildings and structures. Along with this, Town planning, urban design, and landscape architecture to furniture and objects are also key areas where architects work.
How to apply - A candidate should have a B.Arch degree to become an Architect. To get admission to a B.Arch. degree course, it is compulsory to appear for the National Aptitude Test in Architecture (NATA).
Career growth as an Architect - Architects have the opportunity to work on various positions depending on their expertise and experience in this field. They can work as Construction Managers, Industrial Designers, Interior Designers, Landscape Architects, Surveying and Mapping Technicians are some of the positions for Architects. In the Government sector, Architects have ample opportunities in the Archeological department, Departments of Railways, Housing, and Urban Development Corporation, etc. There are many private companies as well, which offers great opportunities for Architects. At the initial level, an Architect can earn up to 30k per month. After certain years of experience, the salary can be raised upto 1-1.5 lakh per month.
Top Employers
DLF

Sahara

Aeons Construction etc.

Gammon India

L & T
Pilot
It is one of the toughest and smartest top 10 careers in science. A pilot needs to be physically fit and mentally attentive. One has to go through Intensive training sessions as Pilot is responsible for handling a flight full of passengers. Knowledge of air navigations and meteorology is also a prerequisite to becoming a Pilot.
How to apply: Directorate General of Civil Aviation (DGCA) conducts a pilot license examination in Delhi, Mumbai, Kolkata, Chennai, Ahmedabad, Patna, Guwahati, Bhopal, Bhubaneshwar, Hyderabad, Bangalore, & Kochi. You have to qualify this examination to get licensed as a commercial pilot.
To become a Pilot at the Indian Air Force (IAF), they need to clear the NDA examination.
Career growth as a Pilot
Pilots have the opportunity to work either in public and private airlines or they can also join IAF as a Pilot. In both ways, the salary and perks are quite attractive. A pilot can start with a salary of over 1 lakh per month. After experience in the aviation sector, the salary can be up to 3-4 lakhs per month.
Top companies for Pilots:
Air India

Indian Airlines

SpiceJet

Air Sahara

Vistara Airlines
It is one of the most trendy jobs of the 21st century. Data analyst flourished as a top 10 career in Science after the emergence of the e-commerce sector. The demand for big data has been increased and so as the demand for data analysts. If you are good at Mathematics and are keen to know about business trends then this could be your dream career.
How to apply - B.tech from IT or computer science is the minimum criteria to become a Data analyst. After a bachelor's, A master's degree in data science or a certificate course in Data science will be the additional benefit to shaping your career as a Data analyst.
Career growth as a Data Scientist - This is one of the Top 10 careers in Science, hence there are several positions available in this field, which include Data Architect, Data Scientist, Business Analyst, Business Intelligence Manager among others.
Various e-commerce and MNC have positions for a Data scientist. Below are the top 5 companies where you can apply for this role.
Top companies for Data Scientist:
Envestnet Yodlee

Oracle

BlueOcean

Fractal Analytics

LatentView
If you have a soft corner for animals and want to make a career in the medical field, then veterinarians could be the right choice. To become a good veterinarian, one must have the ability to make decisions under pressure. Also, this field involves surgeries of animals, hence strong hand-eye coordination is also required to perform better in this field.
How to apply: It is among the top 10 careers in science and to become a veterinarian, one should have held any of the degrees mentioned - Bachelor's degree in Veterinary Science, Bachelor of Veterinary Medicine and Surgery (BVMS) or Bachelor of Veterinary Sciences and Animal Husbandry (B.V.Sc. & A.H.). Admission in many of the veterinary colleges is done on the basis of scores obtained in the entrance examination conducted by the respective university.
Career growth as a Veterinarian - Veterinarian can work in Government as well as in private hospitals. They can also set up their own consultancies, clinics, labs, and businesses. At initial level, a veterinarian can earn up to 30k per month. With some experience and practice, the salary can be 60-70 k per month.
Top employers for Veterinarian:
Indian Veterinary Research Institute

IIVER (International Institute of Veterinary Education & Research)

International Institute of Veterinary Education and Research

The Salvation Army Catherine Booth Hospital.

Veterinary Dispensary Blue Cross of India
Agricultural science is a field of Biology which deals with crop production, livestock, weather, Solis, irrigation, etc. This is a multidisciplinary field which is related to food supply also. It is among the top 10 careers in science, hence there are tremendous opportunities available as an Agricultural scientists in Government as well as in the private sector.
How to apply: To make a career as an Agricultural scientist one should atleast get a master's degree in any of the below-mentioned fields: Agri-Botany, Agri-Biotechnology, Agri-Chemistry, Agri-Economics, Agronomy, Agri-Engineering, and Social forestry. Indian Council of Agricultural Research (ICAR) conducts AIEEA-UG, a national level entrance exam for admission to Bachelor's degree in Agriculture.
Career growth as an Agricultural Scientist:
The major part of the Indian economy is driven by agriculture, and agricultural scientists too play a vital role in this economy. From research in government institutions to research in private firms, there are plenty of opportunities for agricultural scientists. For research associates, initial salary would be around 25-35k per month. At the scientist level, one can take home upto 1 lakh per month.
Top employers for Agricultural Scientist:
Central Agricultural Research Institute

Central Arid Zone Research Institute

Central Institute of Agricultural Engineering

Godrej Agrovet

Britannia
Biomedical engineering is basically a bridge between medicine and engineering. In this field, the application of engineering is applied to medicines for the betterment of the healthcare industry. This field is growing and carries numerous opportunities. Neurobiology, sensors and devices, biomaterials, biomedical instrumentation, tissue engineering, medical imaging, prosthetics are some of the fields of biomedical engineering.
How to apply: Bachelor's degree in Biomedical Engineering is the criteria to become a Biomedical engineer. This degree can be obtained from a number of engineering colleges like IIT, NIT, IIIT, etc.
Career growth as a Biomedical Engineer: It is one of the top 10 careers in science and a good number of opportunities are there in the areas of innovation, designing and development of new technologies for healthcare industries. Research and development of the key area where Biomedical engineers work. There are many domestic as well as international companies where you can work. The average salary of a biomedical engineer in India is up to 3.5 lakhs. Below is the list of top 5 companies in the field of Biomedical science.
Top employers for Biomedical Engineer:
Johnson & Johnson

Medtronic

Philips healthcare

Allengers Medical Systems

Abbott
This profession is considered as one of the strongest pillars of the medical. A Nurse works as a catalyst between doctor and patient. Patience, emotional stability, and good communication skills are the key features to become a nurse.
How to apply: There are various courses available through which you can start your career as a nurse. One can become a nurse at the initial level through General Nursing & Midwifery course. Bachelor's in nursing is required to become a nurse at renowned hospitals. After Bachelor's, one can opt for specialization in nursing, such as Oncology Nursing, Critical Care Nursing, Cardio Thoracic Nursing, etc.
Career growth as a Nurse: Government and Private hospitals, both offers a great number of opportunities for Nurses. Apart from hospitals, a nurse can also work in armed forces, State Nursing Councils, Indian Nursing Council, etc. In this top 10 careers in Science, a Nurse earns an average of 35k per month.
Top employers for Nurses
All the government and private hospitals

The Indian Red Cross Society

Indian Nursing Council and State Nursing Councils

Special centers such as orphanages, old age homes.

The armed forces
Government Jobs: Students who are graduated from the science stream can apply for various competitive exams such as IAS, IES, State level, Railways, SSC and Banking.
Government jobs offers financial stability and Job security. Accomodation, health security are some of the extra perks that a government job provides.
How to apply: Students have to appear in the competitive exam to get the desired government job. E.g. to become an IAS or IES, students have to appear in the UPSC exam. Similarly, there are many other exams such as SSC CHSL, IBPS PO, etc for various government positions. Students can prepare for this government job exam and can get their dream government job.
Career growth in Government Jobs: From becoming a district magistrate through the UPSC exam to a Manager at Public sector banks, numerous opportunities are there for graduates. The salary may vary from up to 30k to 70k per month.
Top employers in Government Sector
Maharatna, Navratna, Miniratna companies.

UPSC

Indian Railways

State service commissions

SSC
How to choose the right career from Top 10 Careers in Science?
This is one of the most common questions asked by students. It is a tough decision and students often make mistakes while choosing a career in the science stream. There are a number of things that a student should consider while choosing their career. Here are some simple tips that will make your career choice easy.
Find out your point of interest. Take workshops of different career options available and check which field attracts you the most.

Know your strengths. Everyone has their own strengths and weaknesses. Try to figure out what you are good at. E.g. you may like doing research work, or you are good at various coding languages. Choose a career where you can give your best.

Do not follow the crowd blindly, else you will ruin all the good opportunities.

Look over the top 10 Careers in Science, shortlist some of them as per your interest and then decide.

Seek advice from experienced people. You can attend some career counselling session. This will help you in deciding the right career for you.