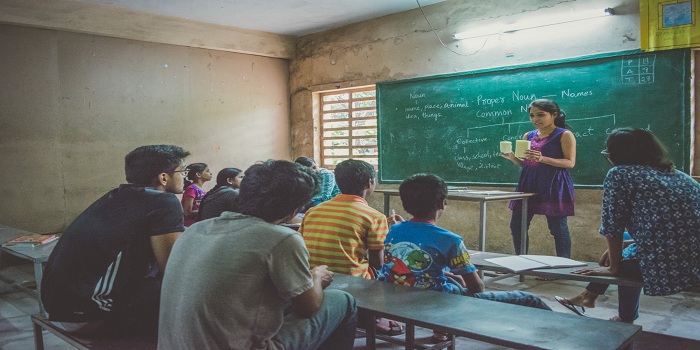 Lack of individual attention to students' learning at schools has created need for social intervention at the elementary level. Careers360 brings to you a story highlighting the need for developing an effective learning and assessment model. Read on to know more. 
It is 3 O'clock in the afternoon. Eight-year-old Ayush, living in a slum behind ITO, a landmark in the heart of national capital Delhi, picks up his notebook, a pencil, an eraser, and rushes to his nearby makeshift school. The crowded school has just one room, but Ayush doesn't complain. In just two months, the 3rd standard student has already learnt how to read words, something that many of his classmates cannot at the regular school. This is true for a lot of elementary students across India. 
The country's education statistics paint a grim picture. According to Annual Status of Education Report (ASER) 2016, across India only 42.2% students of standard 3 know how to read standard 1 level text. Not just in reading levels, the limitations also extend towards understanding basic mathematics. Nationally, just 20.2% standard 3 students, primarily from government schools, can do simple 2-digit subtraction.
"The issue is with the learning foundation of which arithmetic and reading form an important part. If the foundation is not strong, students cannot have proper education at schools," says Ranajit Bhattacharyya, General Manager, ASER Centre, a research and evaluation unit of Pratham, an NGO working in the area of rural education.
Why do we need social intervention?
India's education system offers a very glossy picture if one were to just refer to the quantity aspect of it. There are over 15 lakh schools in the country, according to a District Information System for Education (DISE) report. Of these, more than 8 lakh cover primary education. And the enrolment levels are also impressive given that nearly 20 lakh students are enrolled at the elementary level i.e., standards I-VIII. However, the enrolment numbers are in stark contrast to the number of teachers across the schools. Reports tabled by the government reveal that there is just one teacher in over 1 lakh government elementary and secondary schools across India.
"In many government schools, you will find a single teacher focusing on many classes. Hence, the teacher is not able to concentrate on individual performances of the students. And that is exactly what we focus on at our schools. We try to build the individual learning capabilities of the kids," says Archana Srivastava, founder of Gavaksh, an NGO based out of Delhi.
Grassroot-level organizations
While there is no comprehensive count of the number of NGOs focusing on primary education in India, most of them either work across the rural landscape or in the urban shelters and slums. Interestingly, there are some who have been using unique evaluation and teaching tools to develop learning capabilities among children of all age groups. Take for example, Make A Difference or MAD, which focuses on its students' mental health through sessions on life skills, emotional health and self-esteem.

"A unique aspect about the MAD model is that we teach the children in our care on how to be ready for life and not just academically," says Nivethika Sundararajan, Director Programme Operations of MAD. "We educate our children not just to get great grades and earn certificates, but be a lot more functional and practical about education."
MAD has been working with shelter home children for the past 11 years and providing them academic support through its programme called Ed Support designed to ensure students are provided with qualifications, social skills, functional cognitive skills, among many others tailor made to suit the age of the child in question. 
While MAD focuses on the emotional health of children, another organization, Nanhi Kali, specifically puts its efforts on the girl child, especially those from the disadvantaged class. Initiated by the K C Mahindra Trust and operated in collaboration with the Naandi Foundation, Nanhi Kali is a sponsorship-based programme, which offers financial, academic as well social support to girl children. The NGO says it has supported over a lakh of girls. Their method includes conducting 1-2 hour class outside school hours through an Academic Support Centre, which specifically focuses on mathematics, science and language. 
Pratham, another NGO, has been working in the sphere of primary education from 1995. From providing education to Mumbai's slum children, Pratham has expanded its activities to strengthening learning capabilities. With a presence across 23 States and Union Territories, Pratham says it now reaches over 5.7 million beneficiaries. Pratham's uniqueness is that it segregates students as per their learning capabilities through an assessment tool developed by ASER Centre. 
Developing a learning model
Many of the primary-level students who are beneficiaries of the social integration projects run by NGOs study in government schools. However, most of the schools use same teaching methods for assessing students of various capabilities. Lack of individual attention makes it difficult for students to grasp even the basic concepts. 
The models followed by the NGOs, however, use interactive tools to engage students in the learning process. Games, storytelling, drama and dance classes are the most common methods used. "The idea is to keep the student interested throughout the session. The concept of textbook education does not work these days," says Srivastava. Hence, educational games like scrabble and Tambola are popular in the classrooms. 
Assessment method
What sets the Pratham model apart, however, is its assessment method, done at the time of enrolment through tests created by the ASER Centre. For example, a student would be tested on his mathematical skills by being asked to read numbers. Likewise, his English and Hindi reading skills would be tested on the basis of the understanding of letters, words and then sentences. They are then categorised under labels like L1, L2, Story and Beginners. If a student achieves L2 and Story, he is put in the content or regular class, where he is taught at par with the school syllabus. However, students under L1 or beginners category are put under a crash class, where their skills in that particular area are first honed before being put in the content class. "We follow a series of checks before putting a student under any category. The classes are planned only after final segregation," says Shagufta, in-charge of a Pratham centre in Delhi's Trilokpuri. Like the enrolment assessments, the classes, too, have specific study plans, besides recreational activities. 
How do they attract students?
Adopting a learning model and creating a teacher training system is just one aspect of the process. The hardest part, it seems, is in attracting students to the classes. Most centres run campaigns around the community, which includes frequent meetings with parents, education awareness drives as well as door-to-door surveys to understand and introduce people to their learning methods. A major issue seems to be the fact that students drop out in between the sessions as their parents force them to work or do household chores. Hence, engaging and rewarding parents become very important. "We even put up a small notice recognizing parents who take extra interest in their child's education," says Shagufta.
Engaging parents is important to ensure regular attendance of students. In case of irregular students, her team visits parents to convince them to send their children to classes. They also conduct awareness workshops for parents to update them about their children's performance. 
Stay tuned to www.school.careers360.com for more articles and interviews