Bihar Board 12th Topper 2021 Interview - Kailash Kumar Rank 1 (Arts Stream)
Bihar Board 12th toppers interview - Kailash Kumar secured rank 1 in intermediate examinations and emerged as BSEB 12th topper 2021. He scored a total of 463 marks from the arts stream. He wants to pursue higher studies in Geography subjects. His future goal is to get a higher rank in the UPSC exam and become an IAS officer. In this Bihar board 12th topper 2021 interview, he shared his success mantra and preparation strategy.
Latest Updates for Bihar Board 12th
Stay up-to date with Bihar Board 12th News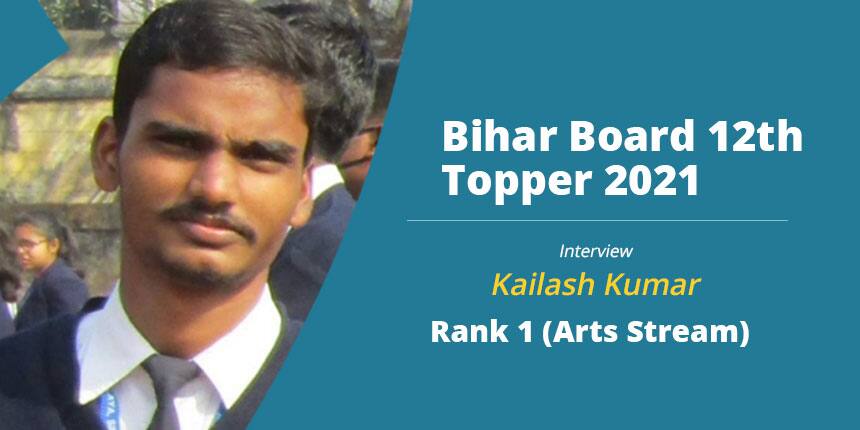 He gives credit to his school for his better performance in the Bihar board 12th exams. During this BSEB 12th topper interview, he told next year students to stay consistent while studying.
Bihar Board 12th Topper Interview with Kailash Kumar Rank 1 from Arts Stream
Read the BSEB 12th topper interview below to know Kailash Kumar's preparation strategy:
Careers360: First of all, congratulations on your performance in the Bihar board exams. Did you get a call from the Bihar board for verification and how did you feel at that time?
Kailash Kumar: Thank you. Yes, I got a call from the Bihar board for topper verification. I feel too good and I had full confidence that I get a good rank.
Careers360: Please share your experience of topper verification by the board
Kailash Kumar: The verification was done at the Bihar Board office. The board officials asked 5 questions from each subject: English, Hindi, Geography, History and Political Science. I answered all of the questions accurately. Most of the questions were asked about my region, Supaul.
Careers360: Tell us something about yourself like your school, residence, etc.
Kailash Kumar: My name is Kailash Kumar. I am a Class 12 regular student of Simutala Awasiya Vidyalaya, Simutala, Jamui. I got this rank with the hard work and honestly guidance of my experienced teachers and respected principal sir.
Teachers at my school are very experienced. The geography subject is taught very well with the help of mapping and sketching. Similarly, they provide high-level education in all subjects.
I want to give credit to my school for my performance in BSEB 12th result.
Careers360: Did COVID-19 pandemic affect your preparation?
Kailash Kumar: Yes, it affected my preparation a little bit for a short time. But my respected teachers started taking classes in online mode through the 'Google Meet' app. They worked hard to teach us the Bihar board 12th syllabus during this pandemic situation. They believe that our students will perform well in all classes exams. We try to work hard and ensure that the name of our institution also gets recognition.
Careers360: Which is your favourite subject?
Kailash Kumar: My favourite subject is Geography and I got 96 marks in this subject.
Also, check BSEB 12th admit card
Careers360: In your opinion, which is the easiest and toughest subject?
Kailash Kumar: For me, each subject is easy. If we study each subject thoroughly, we will find each subject easy.
Careers360: What was your daily schedule for study?
Kailash Kumar: My seniors told to study 14-15 hours daily. My study schedule was not like this.
My actual study schedule includes study time of 5 hours/day. But, I do study every day for 5 hours that too continuously and consistently. I think one should be consistent as 'Consistency is the key to success.'
Also, check BSEB 12th model papers
Careers360: Tell us something about your preparation strategy.
Kailash Kumar: I was in the top 20 in my BSEB 10th result and I choose social science subjects in Class 11. Seeing my performance, people told me not to take social science as this subject is for normal students. Then, I said them this subject is not for normal students. With this subject, we can get higher posts and perform well.
My preparation strategy is to cover each textbook on priority, not to make model set. I prefer NCERT books and try to cover them two or three times. After that, I practise with questions thoroughly.
Careers360: What was your marks and rank in Class 10?
Kailash Kumar: I got 471 marks out of 500 marks in matric examinations. I got 12th rank in the state.
Also, know about Bihar Board 10th toppers
Careers360: Are you planning to appear for any entrance exams?
Kailash Kumar: Yes, I am preparing for the DU entrance examination.
Careers360: What are your future goals?
Kailash Kumar: I want to become an IAS officer. I will study geography in my further and with that, I wish to qualify UPSC exam. Along with my studies, I am also preparing for my goal. Consistency is the rule of my life and I will try to get a better rank in the UPSC exam too.
Careers360: Any message or advise for future Bihar board students?
Kailash Kumar: I will advise them to stay consistent in their study and life. If we do each work consistently then we will get success for sure. One must study NCERT books two or three times while preparing for exams.
Related links:
Questions related to Bihar Board 12th
Showing 49 out of 49 Questions