Bal Bharati Public School, GRH Marg, Student Wins Gold At Asian Junior Sports Exchange Games 2022
Bal Bharati Public School, GRH Marg, Student, Vanshik Mudgal bagged the gold medal at the 14th Asia Junior Sports Exchange Games 2022 held from September 17 to September 19, 2022. She received the honor for her unparalleled performance in the Table Tennis Team Championship held at Komazawa Park Ground, Japan and made Bal Bharati Public School proud.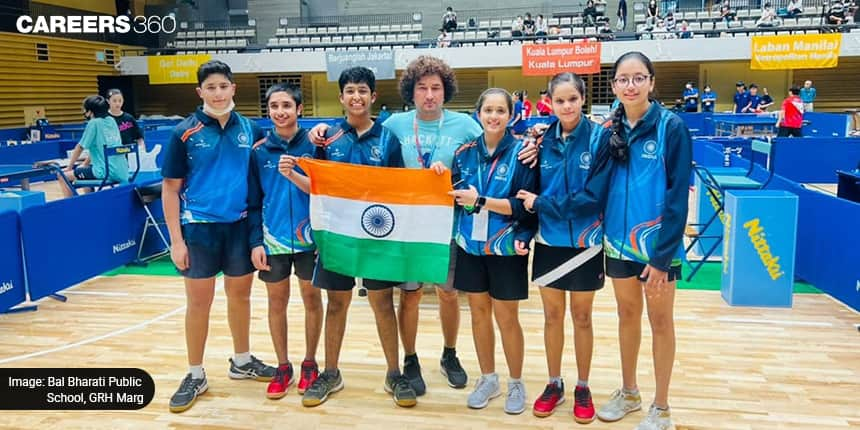 About Bal Bharati Public School
Bal Bharati Public School (BBPS-GRH) was established in 1944 and is affiliated to the Central Board of Secondary Education (CBSE). It is managed by the Child Education Society. "The school continues to be a place where sincerity and hard effort are valued equally, where honesty and integrity count, and where the educational experience is just as important as grades in today's increasingly divided and politicised society. Bal Bharati Public School faculty members are fiercely committed to the success of their students and act as friends, mentors, coaches, advisors, and teachers. They work to push and motivate students to advance their levels of inquiry and comprehension in all aspects of school life," says the school's website.
'I believe that effective teachers create opportunities for collaboration, problem-solving and application of classroom learning to real life situations; you should design instruction to integrate a variety of innovative technological tools and resources to enhance learning', remarks Bal Bharati Public School principal L.V. Sehgal.
Bal Bharati Public School: Other Achievements
Bal Bharati Public School (BBPS-GRH) recently held an Inter-House Hindi Poetry Recitation Competition on the theme 'Shiksha- Ek Amulya Ratna' for the students of Class 5 to create awareness in students regarding the importance of education. Ms. Anju Arora, and Ms. Ritu Sharma TGT Hindi were the judges for the day. It was inspiring to witness students deliver their poetry with assurance, clarity, and joy. Through beautiful, moving poems, they expressed their provocative ideas and opinions. The selection of the poetry, memorization, and elocution were used to evaluate the performances.
Also Read | ATL- Bal Bharati Public School, Pitampura, Student Represents School At DIDAC India 2022
We'd love to know what's happening in your campus - achievements, awards, camps, workshops, and the various competitions that your students and teachers may participate in. Send us the details on schoolevents@careers360.com
Bal Bharati Public School, GRH Marg, Student Wins Gold At Asian Junior Sports Exchange Games 2022