Apeejay School, Faridabad, Organises AISMUN 2022
Apeejay School, Faridabad, is organising annual AISMUN 2022 from September 30 to October 1. The 6th Annual Apeejay Inter-School Model United Nations Conference will have 5 committees deliberating on different themes including 'Freedom of Speech and Expression', 'Current Crisis In Sri Lanka, and Impact of Ukraine-Russia Conflict'.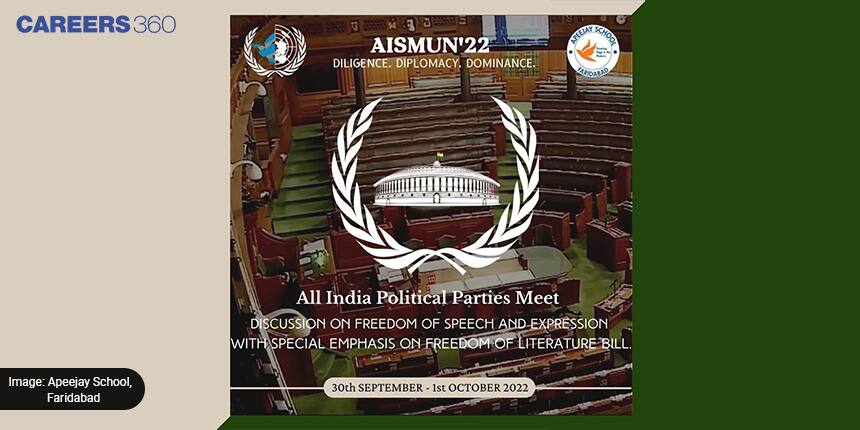 About Apeejay School, Faridabad
Apeejay School, Faridabad was established in 1972 and is affiliated to the Central Board of Secondary Education (CBSE). It is managed by Apeejay Education Society. "The Apeejay School in Faridabad believes that every organisational achievement is preceded by a tremendous deal of hard work driven by a strong sense of vision. In all endeavours, the school strives to uphold excellence and be a pioneer in providing quality education that is based on values and promotes "nation-building" and "man-making," where academic excellence coexists with human excellence and directs youthful energies toward creativity and self-actualization," says the website.
"The human mind is our fundamental resource', we endeavour to send into the world empowered students, who, supported by strong roots, soar high on stronger wings, embodying the motto of the School, 'Soaring High is my Nature'", remarks Apeejay School officiating principal Anita Yadav.
Also Read | Best Schools in Faridabad 2022
Apeejay School, Faridabad: Other Achievements
Apeejay School, Faridabad, students Yashika Khurana and Akshita Khurana, bagged gold medals in the District School Games 2022 in the Under-63 kgs U-19 years and Over-68 kgs U-17 years category respectively.
Apeejay AISMUN has introduced a Continuous Crisis Committee this year whose agenda will be revealed during the deliberations. Other than that, the United Nations Security Council, All India Political Parties Meet, United Nations Convention on Status of Women and UNGA-II Economic and Financial Committee will be discussing their respective agendas.
Also Read | The Lexicon Schools Organise LEXIMUN' 2022
We'd love to know what's happening in your campus - achievements, awards, camps, workshops, and the various competitions that your students and teachers may participate in. Send us the3 details on schoolevents@careers360.com